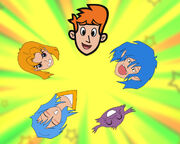 capitulo de kappa mikey.
el episodio comiensa cuando filman lilymu y los interumpe ozu diciendo: ¡¿por que en todo anime deve de aver tarjetas?! y diciendo que el show dejo de ser original y sino traen un actor original canselaba lilymu .ozu manda a ser audisiones .asen unas audisiones para ver cual es el nuevo kapppa .y muchos vienen alas audisiones pero todos son terribles y guano lansa un concurso diferente llamado el concurso de la vida pero ozu al enfureserse de la noticia lansa las tarjetas y algunas se pierden por el mundo llegando hasta estados unidos donde despues de que mikey se hizo un zuper calson chino busca trabajo despues de la secundaria.mikey le cae ala cara un raca huele de el concurso de la vida y resulta ganar .perocuando ozu lo explota como estrella mikey se aprovecha de ello .al contrario gonard,lilimitsuki y guano se molestan con el por ello .sintiendoce trista gonard yguano deciden ocultar que sea un mal actor incubriendolo en lilymu
el piloto perdido de la 6 temporada
referensias culturales
Edit
el creador de kappa mikey solo escrivio este capitulo
el trama de este piloto es referensial a futurama.
Ad blocker interference detected!
Wikia is a free-to-use site that makes money from advertising. We have a modified experience for viewers using ad blockers

Wikia is not accessible if you've made further modifications. Remove the custom ad blocker rule(s) and the page will load as expected.