vive en japon en Torres lilymu pero se sospecha que vivia en irlanda debido a que su mama tiene asi el asento. gonard es una parodia a sonic se sospecha que este enamorado de lily vive con su madre y se sospecha que venga de irlanda o de que su papa sea el dragonsu amigos son fiel con el.sus caracteristicas son dos:
sus tonterias
su apetito comico
y millones mas.le gusta comerse lo emparedados y solo se da cuenta en
U oh guano
le gusta tambienn gritar y estar en desacuerdo con los demas.vive con su madre por alguna razon en las [[Torres lilymu|Torres lilymu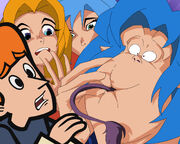 ]]
Ad blocker interference detected!
Wikia is a free-to-use site that makes money from advertising. We have a modified experience for viewers using ad blockers

Wikia is not accessible if you've made further modifications. Remove the custom ad blocker rule(s) and the page will load as expected.