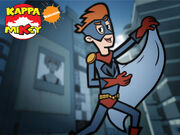 Episodio de kappa mikey.Alto no quera causarle un spoiler:un revelasion de una pelicula o comic como contar el final o la muerte de un familiar .
Todo comiensa cuando filman lilymu y mikey insiste con una rutina de tauromaquia hasta que [[ozu(latino)los llama para avisar que se va de vacasiones .y ozu mandaba una larrrrrrrrrrrrrrrrrrrrrrga lista de reglas mientras el asistente(latino) las subtitulabas.durante eso mikey y gonard se escapan hasta la ofisina de ozu donde mikey juega con una espada samuray hasta cortar el arbol bonsai de ozu y mientras ozu se ba mikey tiene que remplazar el arbol bonsai de ozu y se compra uno en bonsais hasta su domisilio para remplasarlo por otro.violan la seguridad del la ofisina de ozu mientras lili descubre sierto plan los acusa con ozu.cuando llega este depide a todos dejando a el asistente (latino) como el unico actor hasta llega una flor al bonsai y ozu los recontrata.
Ad blocker interference detected!
Wikia is a free-to-use site that makes money from advertising. We have a modified experience for viewers using ad blockers

Wikia is not accessible if you've made further modifications. Remove the custom ad blocker rule(s) and the page will load as expected.